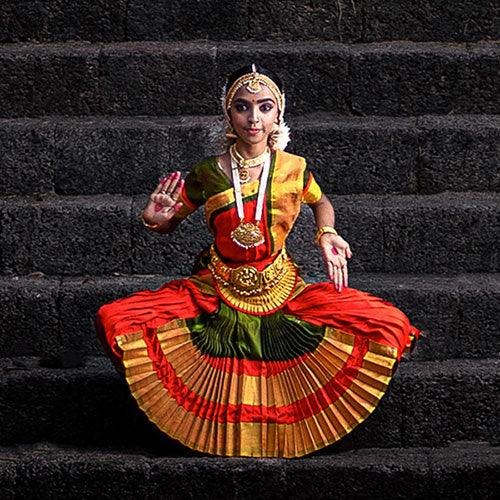 Bharatanatyam is a widely known and historic Indian classical dance socially patterned for its grace, purity, tenderness, and sculpturesque poses. Bharatanatyam, which beautifully blends the 3 elements 'Bha'-Bhava (expressions), 'Ra'-Raga (musical melody), and 'Ta'-Tala (rhythm), is undoubtedly one of the world's most popular dance forms today.
Our specialist instructors are formally trained and even have years of teaching and performance experience in Bharatanatyam. We make every effort to teach Bharatanatyam at its best by incorporating all of its basic elements, despite the reality that it is one of the highly skilled dance styles with intricate technical details.
Beginner classes focus on developing a solid foundation of good skills, which is necessary in Bharatanatyam. The classes begin with a yoga-based warm-up that prepares dancers for more demanding movement sequences, continue to learning the adavus (basic dance units in Bharatanatyam), and continue with learning pieces of choreography. By focusing on the accuracy of body patterns, students are taught to use breath and imagery to discover different textures and patterns within a traditional set of steps. Repertoire courses for advanced and intermediate dancers center on technical detail and learning increasingly difficult and physically demanding dance pieces from the classic Bharatanatyam body of work to new choreography. Our unique teaching methods make learning Bharatanatyam both enjoyable and efficient for our students.